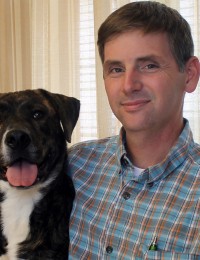 Doctor
Education: Purdue University
Dr. John grew up in Rossville on a dairy farm.   He attended Purdue University where he received a B.S. in Animal Science.  After graduating, he worked in the animal science industry and as an electrician for about ten years before deciding to go into veterinary medicine. He graduated from St. George's University in 2008 and has been at Wayside ever since.
Dr. John enjoys the diversity that comes with working in veterinary medicine.  Every day brings a new variety of animals to treat–cats, dogs, cows, goats, sheep or horses.
He and his wife Jenni have two daughters, Allison and Sarah.  They also have several 4-legged family members– Ella a Lab mix, Daisy a pug mix, and Miss Hughes the cat.  He enjoys fishing, and camping, when he is not helping his girls with their 4-H goats, or working with his Belted Galloway beef cattle.